General Fire and Safety highly recommends fire alarm systems from EST™, which provides progressive solutions for safety, fire detection, and fire alarms. Only individuals who have become an EST™ Strategic Partner can sell these systems. EST™ Strategic Partners are selected from the most qualified Engineered Systems Distributors. Before becoming a Strategic Partner, candidates must complete thorough training and demonstrate high levels of technical skill and quality control. The team members at General Fire and Safety are proud to connect an EST™ Strategic Partners with you.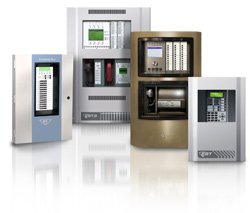 Signature Series Intelligent Detection
Featuring smoke, heat, and carbon monoxide (CO) sensing technologies in a single compact unit, this system eliminates the need for separate devices.
Genesis Series Advanced Notification
Offering the latest in notification technology, this system combines inconspicuous looks and features to blend in with any facility.
FireWorks Command and Control
Highly effective yet simple monitoring and control with screen quadrants that are organized, context-sensitive, and event-driven.
EST3X
A versatile system with built-in cost-saving technology.