General Fire and Safety is Nebraska and Iowa's leader in fire alarm systems, fire alarm inspections, and service. We provide testing of all fire alarm components to meet all local and state requirements along with NFPA and IFC code requirements for your Omaha fire alarm system. We provide Omaha expert service for fire alarm systems and equipment. Inspections, and testing from all manufacturers is scheduled on a quarterly, semi-annual or annual basis.
General Fire and Safety also provides excellent service on all devices including smoke and heat detectors including VESDA fire systems. VESDA by Xtralis consists of very early warning aspirating smoke detection solutions with continuous air sampling, providing the earliest possible warning of an impending fire hazard. Whether it is for insurance requirements or local code compliance, call General Fire and Safety to perform your next fire alarm inspection with industry-leading expertise, knowledge, and service. We can schedule a free, no-obligation walk-through of your facility to check for fire hazards.
Why Fire Alarm Inspections are Important
It should seem like an obvious matter of importance, but some people believe that annual fire alarm inspections are unnecessary or a waste of time. However, fire alarm inspections in Omaha help to ensure your fire alarm system is working like it should, which will ultimately save lives in the event of a fire. Besides saving important lives, some other benefits of having your fire alarm system inspected include:
Saving your business

Ensures insurance coverage

Helps to avoid legal problems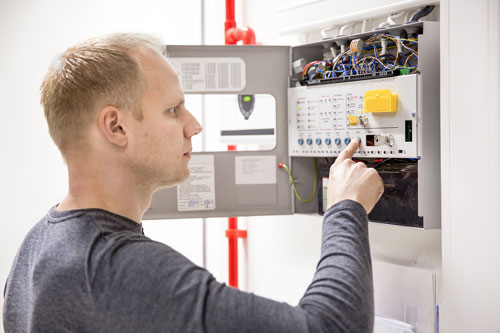 General Fire & Safety highly of Omaha recommends fire alarm systems from EST™ Strategic Partners. EST™ provides progressive solutions for safety, fire detection, and fire alarms. Each EST™ partner is selected from the most qualified Engineered Systems Distributors. Before becoming a Strategic Partner, candidates must complete thorough training and demonstrate the highest levels of technical skill and quality control. The team members at General Fire & Safety are proud to partner with EST™ Strategic Partners.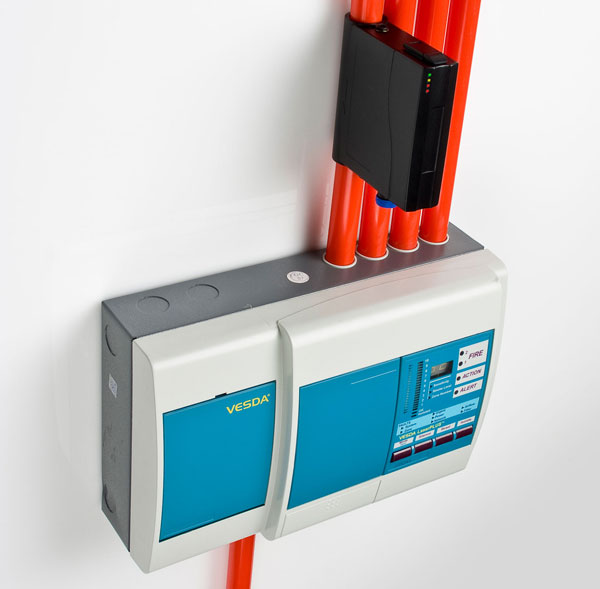 Signature Series Intelligent Detection
Featuring smoke, heat, and carbon monoxide (CO) sensing technologies in a single compact unit, eliminating the need for separate devices.
Genesis Series Advanced Notification
Featuring the latest in notification technology, combined with inconspicuous looks and features to blend in with any facility.
FireWorks Command and Control
Highly effective yet simple monitoring and control with screen quadrants that are organized, context-sensitive, and event-driven.
Xtralis' VESDA system has revolutionized the smoke and gas detection industry. This system not only detects fire, but can predict a potential fire up to 30 days before it occurs by measuring toxic gases, combustible gases, and oxygen deficiency. By notifying users when an environment enters the incipient stage of a fire, your employees can use the system to detect probable causes and take action. Large tech corporations trust VESDA for their fire and gas detection needs because of its reliable technology and state-of-the-art early detection warning, giving them the ultimate protection for valuable assets, and equipment.
SMOKE DETECTION
The early smoke detection of the VESDA system actively samples the air for even the smallest particles of smoke to detect a fire at its earliest stage. With early warning, there is time to understand the fire threat, research options for fire control, transfer important assets, data, and technology to a safer location, and evacuate the premises before fire suppression.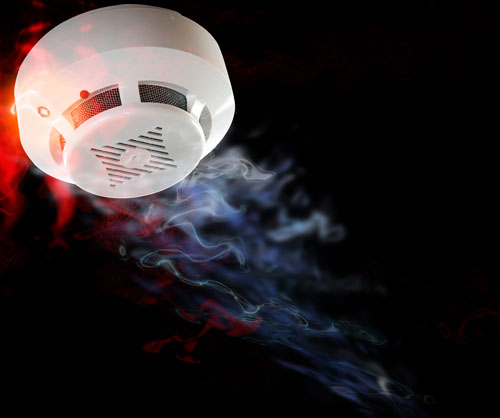 GAS DETECTION
Conventional fixed point gas detectors detect gas leaks and then generate an alarm. Proper placement of these units is a must for maximum effectiveness. Effectiveness also depends on the type of gas detection needed, airflow, pressure, and temperature. Other environmental elements factor in as well. More units in a particular space increase effectiveness, but also cost.
Save Money
Simply put, the VESDA system saves you dollars. It has multi-hole aspirators, providing cost-effective, 24/7 active air sampling and early detection of gas leaks in the harshest industrial or manufacturing environments. This system also offers full integrity monitoring, improved coverage, and dependable protection in areas of varying airflow.
Easy Installation
The VESDA system also offers easy installation along with with simple maintenance and service. The system operates with low energy consumption, too. All these factors result in lowering operating costs and overall cost of ownership.
Reliable
The VESDA Pro system provides reliable smoke and gas detection at the earliest presence of a hazard. Conventional detectors do not offer this early detection, as toxic or combustible gases, smoke, and fire can spread even before a warning gets delivered. Conventional detectors may not provide you enough evacuation time to secure your team and equipment.
VESDA Pros are an elite, invitation-only group of dealers dedicated to delivering excellence in the design, installation, commissioning, service and maintenance of Xtralis detection products. Professionally trained and certified to deliver the most advanced solutions to clients that demand the best, the VESDA Pro is a chosen professional to represent the full line of Xtralis fire alarm systems and products. Xtralis is the pioneer of the aspirating smoke detection (ASD) system, with over 30 years of experience, providing ASD solutions since the early 80's. Xtralis has hand-selected these partners to represent our complete line of fire alarm systems and applications. The level of experience needed to become a VESDA Pro does not come fast. You can rest assured knowing that your VESDA Pro offers the most complete knowledge and expertise available.
Xtralis believes in providing you this elite group of partners that know how to deliver detection that exceeds your expectations because we believe ultimate safety is paramount. Before members are selected as a VESDA Pro dealer, an extensive review of their work experience, technical resources, fire alarm inspections, and application experience in fire detection is completed. Only the top dealers in the Americas Region receive the title of VESDA Pro. They are simply the BEST of the BEST.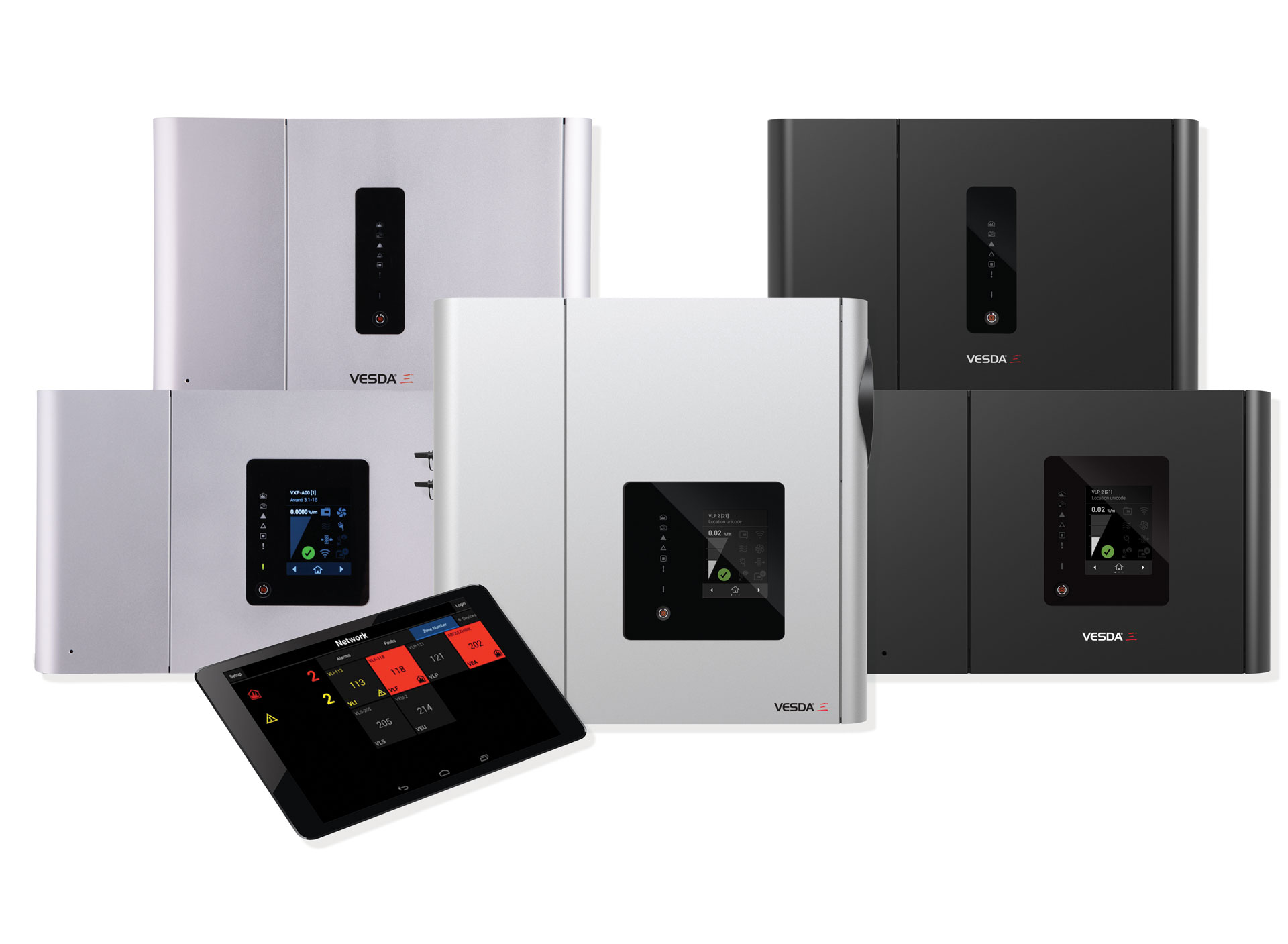 A VESDA PRO partner delivers:
Certified, advanced training in all resources, fire alarm inspection, covering design, engineering, installation, and maintenance.
Premier level of service and trained to handle the most difficult of applications.
Years of experience across their organization.
A partner that can handle your account locally, nationally, and internationally.
Responsive team available 24/7 to support your needs.
Knowledge of developing new technologies in advance of the market.
Cost-saving tools and techniques to provide performance-based designs.
Whether you are a building owner, architect, engineer, or part of a design firm, our team of VESDA fire system professionals are here to support your every need. With the power of Xtralis and a vast group of resources to support each VESDA Pro, you can have supreme confidence that General Fire and Safety is among the finest group of fire detection professionals.
VESDA Pro partners provide you a single source for all your fire detection and fire alarm inspection needs in Omaha. As independent dealers, VESDA Pros give you the flexibility to manage your needs and the cost of ownership your way.