Hydrostatic testing of fire hoses determines their serviceability and safety and involves a hydrostatic test pump. Hydrostatic testing can be dangerous and should only be done by trained personnel using proper tools and procedures.
General Fire and Safety has the staff with the expertise needed to safely administer hydrostatic fire hose testing and fire hose pressure tests. During fire hose testing, all air is removed from the hose. The hose is then filled with water and checked for efficiency, durability, and warping. The hose is inspected for bulges, sweating at couplings, hose movement in coupling tailpieces, and other visible deformities. You can depend on General Fire and Safety to perform hydrostatic fire hose testing in the safest, most accurate way.
For an inspection of your facilities, schedule a free, no-obligation walk-through.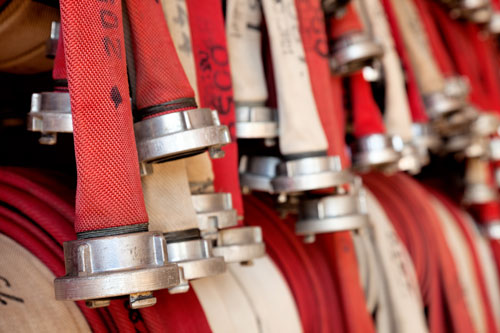 General Fire and Safety personnel perform these hydrostatic fire hose pressure tests:
A proof pressure test applied to hose for a specific period of time.
Regulation of pressure ensures no hose weakening occurs during the fire hose testing.
A hold test determines whether weakness will develop under a given pressure for a specific period of time.
Warp occurs when a hose deviates from the parallel line from fitting to fitting.
Rise measures the height a hose will rise from the test table surface while under pressure. Twist is the rotation of the free end of the hose while under pressure. A base reading is taken and a second reading at proof pressure. The difference in degrees between the base and the proof pressure is the twist. Clockwise turning is right twist and counterclockwise is left twist when standing at the pressure inlet and looking toward the free end of a hose.
A kink test measures the ability of a woven jacket hose to withstand brief pressure while the hose is bent back sharply on itself.
A volumetric expansion test applies only to specific types of hoses, like hydraulic hoses or power steering hoses. This test measures volumetric expansion under ranges of internal pressure. Any hose that is deemed substandard will need to be repaired or replaced.