If creating a safe work environment is your top priority, regularly checking your fire extinguishers for optimal operation is a must for your business in Omaha. Routine fire extinguisher inspection will determine whether they need maintenance or replacement. General Fire and Safety has the fire safety services experts you can depend on for fire extinguisher training and inspection.
Regular monthly and annual inspection and maintenance of your fire extinguishers ensures proper operation. General Fire and Safety will come inspect your fire extinguishers at regular intervals to confirm they are ready to perform at optimal capability for your business in Omaha. These routine fire extinguisher inspections ensure the safety of your employees, your company, and its assets. Schedule a free, no-obligation walk-through of your facility.
How to Prepare for Fire Extinguisher Inspection
Here are three simple questions you should ask before your fire extinguisher inspection near Omaha:
1. Is the fire extinguisher in the right location?
Confirm that your fire extinguisher is in a visible, unobstructed place with easy, quick access. Furthermore, make sure everyone on the premises is aware of your fire extinguisher's location.
2. Is the fire extinguisher in good condition, with legible operating instructions and tags?
Confirm the locking pin is intact and has an unbroken tamper seal. Check the fire extinguisher for corrosion, leaks or a clogged nozzle. Make sure the nameplate and instructions are legible.
3. Does the pressure gauge show the correct pressure?
Verify the pressure gauge indicates operational pressure and range. Different classes of fire extinguishers will have different operational pressures.
Our Fire Extinguisher Training Program
The BullEx I.T.S.™ is a safe, easy way to provide live, hands-on fire extinguisher use training in your facility. By using it, you actually create a safer workplace faster.
Utilizing the BullEx I.T.S.™ Live-Fire Extinguisher Training System, we provide fire extinguisher education for your employees in the workplace. The fire safety services training staff at General Fire and Safety are experts in this system and in training employees of all fire safety skill levels. This system provides extensive fire extinguisher training, such as knowing different classes of fires, which extinguishers to use for them, and the proper method of using fire extinguishers.
How fire extinguisher use training works
Designed with patented flame-response technology that detects the fire extinguisher user's technique, the system automatically changes its flames, providing a realistic and complete training experience. The sensor technology of the I.T.S. system detects how well the trainee is using the equipment. The system senses the user's aim and angle of sweeping motion, properly training them in the PASS method (Pull, Aim, Squeeze, Sweep) of fire extinguishing. Four sensors on the I.T.S. unit detect the release of compressed air and water from the extinguisher, and the unit's control system automatically varies the flames in response to the user's technique.
Because extinguishers in the I.T.S. system use available air and water instead of dry chemicals or costly CO2, fire extinguisher use training costs stay down and multiple employees can safely train in a clean environment. Plus, it eliminates the need for regular discharging and recharging cycles needed for dry chemical and CO2 fire extinguishers. Extinguishers using chemicals or carbon dioxide also have a limited number of uses before they need to be replaced. There's no limit to how often the training extinguishers can be expelled, resulting in cost savings and efficiency, as several employees can be trained in a single day.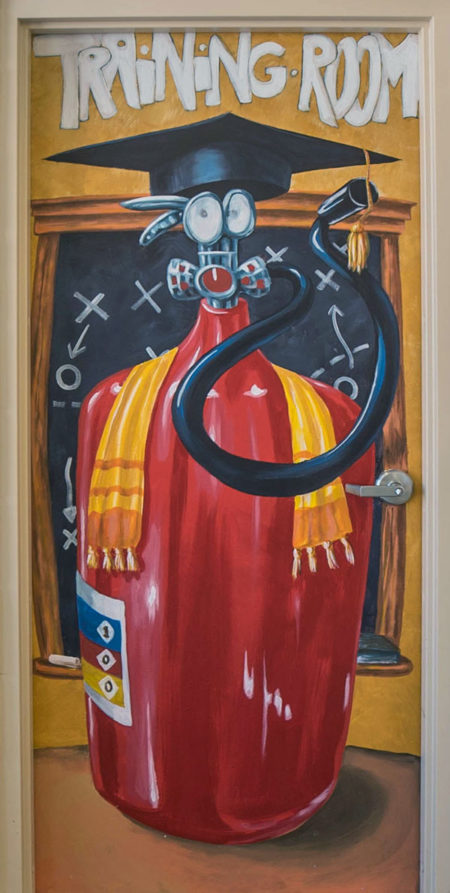 Call Today for Fire Extinguisher Training
General Fire & Safety Equipment Co. appreciates your interest in our Fire Extinguisher Demonstration Program. This program gives your employees confidence in fighting fires and a better understanding of fire safety, plus meets OSHA extinguisher training requirements. We understand the importance of focusing on the type of emergencies your particular employees are likely to face in the workplace, whether it's an office building, a hospital, or a factory.
Our fire extinguisher training entails the following items:
The latest innovation in water-based training called the Bullex Live Fire Extinguisher Training System – all with no powdery mess!
Licensed, expert fire safety service representatives trained in fire demonstration
10 lb. Fire Extinguishers – One extinguisher for every two to three individuals
Propane-fueled fire with electronic controls that provide a live control burn, complete with instant re-ignition and safety auto turn-off
Analyzation and scoring of trainees' technique and efficiency
Each class usually takes 20-30 minutes with our licensed fire safety service rep training up to 30 individuals. The first topic presented is the specifics of fire extinguisher safety. The representative will then allow your employees to extinguish fires, using one extinguisher for every two to three individuals that are being trained.
We have trained hundreds of employees and would like to serve your needs as well. Appointments are being filled quickly, so we look forward to hearing from you soon.
General Fire and Safety offers the greater Omaha area Fire Extinguisher Training classes. These classes are designed for employees and employers alike to become knowledgeable and confident using a fire extinguisher in case of a fire. Classes include:
Actual hands-on experience allowing employees to participate in real-world fire scenarios using valuable equipment
Classroom instruction of fire extinguisher use and up-to-date informative literature
Knowledge of steps to take when a fire is discovered
Certificate of completion