General Fire and Safety offers the areas around Omaha fire extinguisher safety training, fire sprinkler services and inspections, fire hose testing, and much more.
Now in our new building at 13002 I St.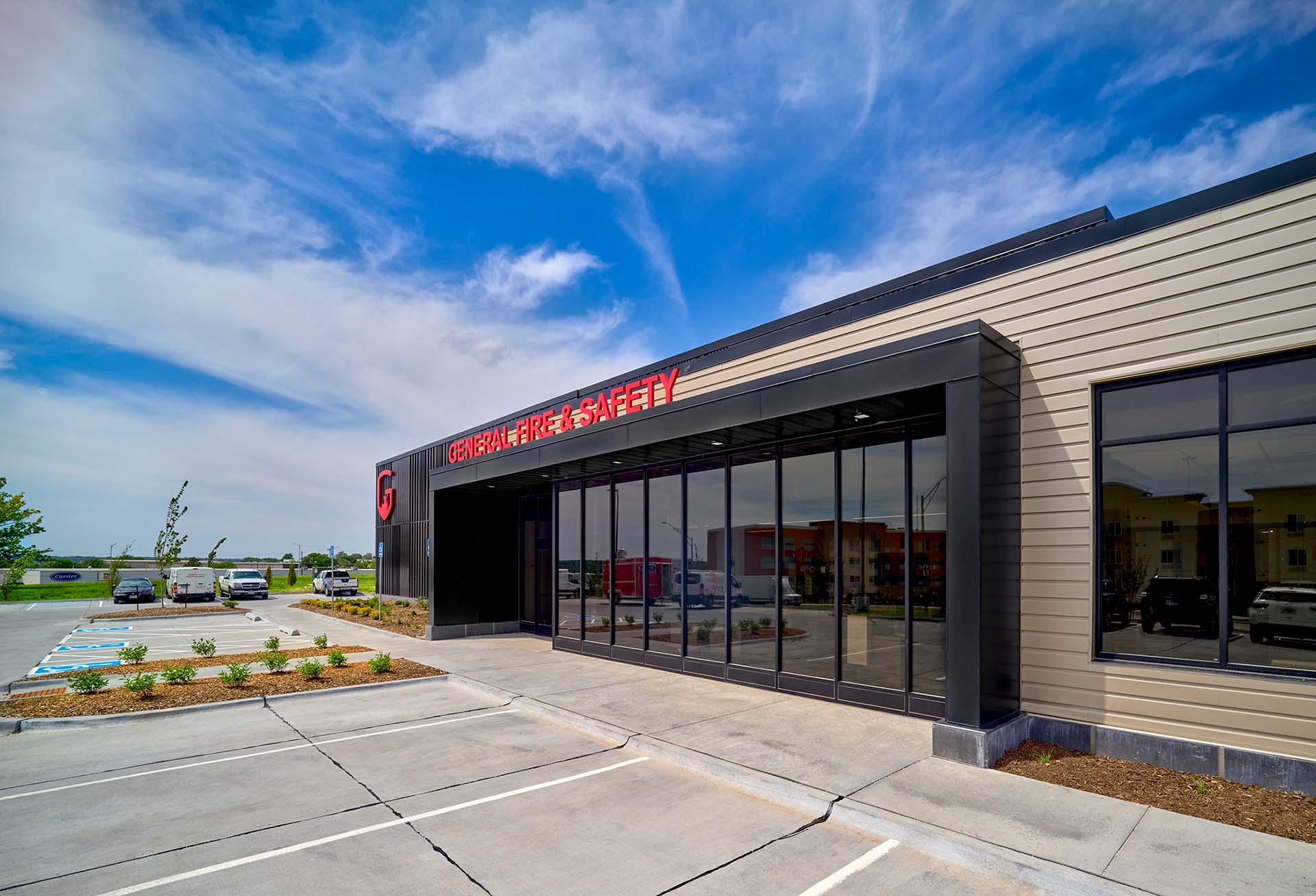 About General Fire & Safety
General Fire & Safety has been keeping Omaha businesses and commercial structures safe for more than 50 years. From a simple fire extinguisher to full fire suppression systems, Omaha has trusted General Fire & Safety to provide top-of-the-line products, installation, and maintenance.
Our team consists of more than 40 service technicians in the greater Omaha area, including 24-hour on-call service. Each individual receives training that exceeds industry standards to ensure they're well-informed on any topic you may have regarding your fire safety products and systems. This allows for the fastest, most efficient service possible for all of Omaha's fire sprinklers, fire alarms, suppression systems, personal protective equipment, extinguishers, and more.
Are you starting a new business in a brand-new building? Call on General Fire & Safety to help you plan a fire safety system that fits the specific needs of your business, employees, and customers. Or maybe you have a well-established business, but you're worried your fire protection systems are out of date. We can complete a full inspection of your current efforts, suggest any necessary updates, as well as be your trusted maintenance team to ensure all your products and systems work as they're supposed to in the event of an emergency.
From Omaha's fire sprinklers and fire alarm systems to eyewash stations and safety glasses, General Fire & Safety is your one-stop-shop for emergency fire and life safety products. We are proud to provide each and every maintenance, and system installation in Omaha.
"
"General Fire & Safety has always been on time and never tries to sell me equipment that I don't need. I would recommend their service to any company!"
"
Eric Peel
Owner - All About Storage
"
"General Fire & Safety has been a valued and trusted company over the years that embraces a working partnership to meet our needs and provide a safe airport environment for the Omaha Airport Authority and the flying public. They are always a quick phone call away for any service we require."
"
Frank Hamernik
Fire Captain with Omaha Airport Authority (Eppley Airfield)
"
"It has been a pleasure to work with your team. We completed 3 projects together this summer and when I call to schedule you have been very accommodating (some night work, sometimes day), also I would like to mention the professionalism, once you have scheduled the technician they call me once onsite and proceed to go to work once orientated, they also call when complete and give me details of what was accomplished and if/when they will return."
"
John Johnson
General Superintendent, Bouma Corporation